CPC at the 2019 Interdisciplinary Association for Population Health Science (IAPHS) Conference
October 15, 2019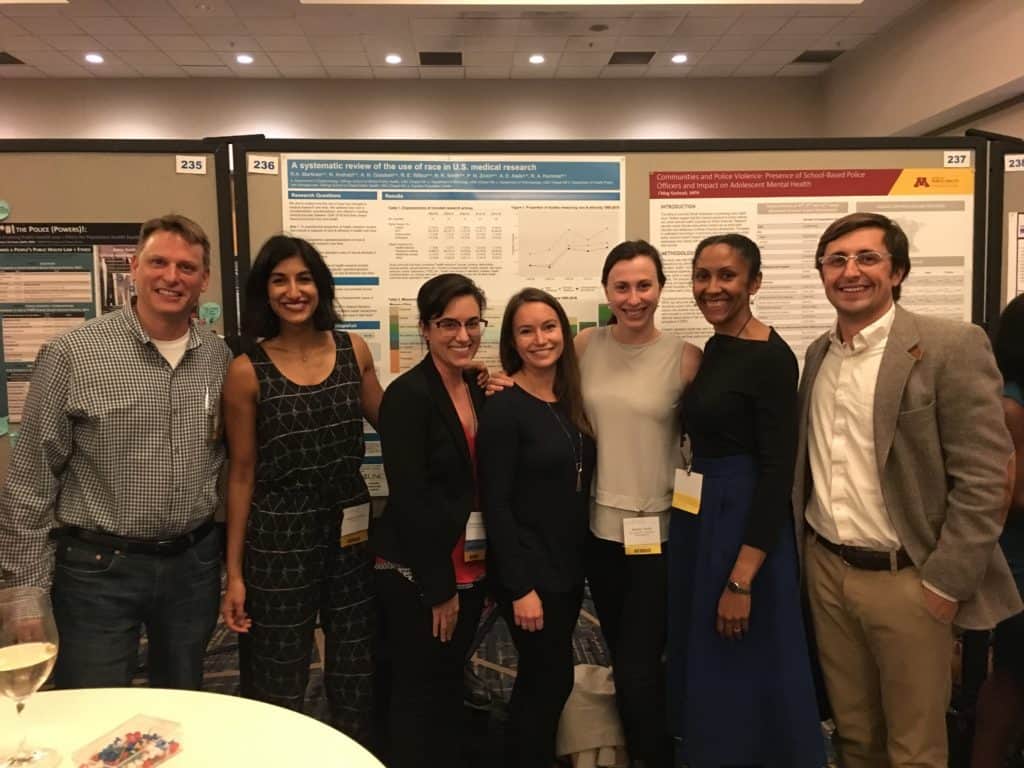 The 2019 Interdisciplinary Association for Population Health Science (IAPHS) Conference was held from Tuesday, October 1, 2019 – Friday, October 4, 2019 in Seattle, WA. All predoctoral trainees and postdoctoral scholars in the Biosocial Training Program attend IAPHS.
This year, Iliya Gutin, a doctoral candidate in sociology and a predoctoral trainee at the Carolina Population Center, received the 2019 Student Award from IAPHS.
Gutin's current work focuses on the conceptualization, definition, and measurement of health, illness, and disease in medical and social research, and how these decisions influence what it means to be "healthy" in a highly-dynamic and stratified society. Specifically, his dissertation examines clinical, epidemiologic, and subjective ambiguity in our understanding of body weight as a health risk, and how we can better account for this uncertainty in studying population health.
Gutin says he hopes to continue this kind of work throughout his career, collaborating with health researchers across different disciplines and backgrounds to achieve closer and more meaningful linkages between the health concepts, issues, and disparities we are interested in and the measures we have access to our data.
In addition, two of our trainees received poster awards at the conference:
Alexis C. Dennis, a predoctoral Trainee at CPC and a doctoral candidate in sociology, received a poster award for her poster, "Racial/Ethnic Differences in the Socioeconomic Correlates of Depression Among U.S. Born Young Adults." Her research used AddHeath data to assess racial differences in socioeconomic status across the life course.
Congratulations to @_ACDennis who won a poster award at the @ia4phs conference last week! Her project utilized #addhealthdata to assess #racial differences in #SES across the #life course. @UNCPopCenter #sociology #populationstudy #academictwitter #poptwitter #research pic.twitter.com/SGt7ZBTkAs

— Add Health Research (@Add_Health) October 10, 2019
Allison Marie Lacko, a predoctoral Trainee at CPC and a doctoral candidate in Nutrition, received a poster award for her poster, "State-Level Variation and Disparities in the Nutritional Quality of Household Food Purchases in the US, 2007-2014."


Proud of @allilacko for her @ia4phs poster award!! @NutritionUNC @UNCPopCenter @GFRP_UNC pic.twitter.com/edxXZlyn5I

— Shu Wen Ng (@ShuWenNg) October 4, 2019

Listed below are all posters and talks featuring current CPC trainees and faculty fellows at IAPHS 2019. For more information, please visit the conference website.

Tuesday, October 1, 2019

Bedtimes and Television Viewership in the Streaming Era

Jess M. Meyer, PhD
Poster Session 1 – P106
6:00 pm – 7:30 pm
Session Room: Metropolitan Ballroom

Maternal Depression in Rural Pakistan: The Protective Associations with Cultural Postpartum Practices

Katherine LeMasters
Poster Session 1 – P108
6:00 pm – 7:30 pm
Session Room: Metropolitan Ballroom

Pain in my Heart: Understanding Perinatal Depression among Women Living with HIV in Malawi

Katherine LeMasters
Poster Session 1 – P110
6:00 pm – 7:30 pm
Session Room: Metropolitan Ballroom

Reliability and Trajectories of Self-Reported Health Measures

Iliya Gutin
Poster Session 1 – P113
6:00 pm – 7:30 pm
Session Room: Metropolitan Ballroom

Racial/Ethnic Differences in the Socioeconomic Correlates of Depression Among U.S. Born Young Adults

Alexis Christine Dennis
Poster Session 1 – P134
6:00 pm – 7:30 pm
Session Room: Metropolitan Ballroom

Wednesday, October 2, 2019

Lunchtime Session: Funding 101

Featured Panelist:
Chantel Martin, PhD
12:30 pm – 1:30 pm
Session Room: Metropolitan Ballroom

Assortativity by Treatment in Social Networks and Bias in Population Studies

Paul Zivich
Abstract Session 1: Relational and Multi-Disciplinary Approaches to Health
1:30 pm – 2:45 pm
Session Room: Ravenna

Race/Ethnicity, Gender, and Allostatic Load Among Young Adults in the United States

Liana J. Richardson, PhD, CPC Faculty Fellow
Abstract Session 1: Intersectional Approaches to Understanding Racial and Ethnic Health Disparities
1:30 pm – 2:45 pm
Session Room: Kirkland

Microbiome-Immune System Interactions in Add Health

Audrey Renson
Poster Session 2 – P201
5:00 pm – 6:30 pm
Session Room: Metropolitan Ballroom

Educational Attainment and Young Adult Health in the United States: Differences by Race and Gender

Grace A Noppert, PhD
Poster Session 2 – P219
5:00 pm – 6:30 pm
Session Room: Metropolitan Ballroom

A Systematic Review of the Use of Race in Population Health Medical Research

Rae Anne Martinez
Poster Session 2 – P236
5:00 pm – 6:30 pm
Session Room: Metropolitan Ballroom

Thursday, October 3, 2019

Populations Potentially Affected by Sugar-Sweetened Beverage Portion Size Laws

Natalie Smith
Abstract Session 3: Policy Solutions for a Healthier Rural America
3:15 pm – 4:30 pm
Session Room: Kirkland

The Role of Subjective Social Status in Shaping Adolescent Mental Health

Nafeesa Andrabi
Abstract Session 3: Features of Children's Social Ecologies that Bear Upon Health and Development
3:15 pm – 4:30 pm
Session Room: Leschi

The Impact of Grandmother Involvement on Child Growth and Development in Rural Pakistan

Esther Chung
Abstract Session 3: Features of Children's Social Ecologies that Bear Upon Health and Development
3:15 pm – 4:30 pm
Session Room: Leschi

State-Level Variation and Disparities in the Nutritional Quality of Household Food Purchases in the US, 2007-2014

Allison Maria Lacko
Poster Session 3 – P338
5:00 pm – 6:30 pm
Session Room: Metropolitan Ballroom

Friday, October 4, 2019

Plenary 3: Award Winner Presentations – Climate Change, Disasters, and Displacement

Featured Panelist: Dynamics of Destruction, Reconstruction, and Population Change after a Disaster

Elizabeth Frankenberg, PhD, CPC Director
8:30 am – 10:30 am
Session Room: Metropolitan Ballroom