CANCELLED: Unfortunately the 2020 Summer program is cancelled.
We host a select number undergraduate interns each summer. Interns work alongside faculty and predoctoral students on research projects, presenting their work at an annual symposium held each August. Interns also receive training in statistical programming, GRE preparation, and professional development workshops; conduct statistical analyses, prepare and present oral presentations at symposia; and develop independent learning strategies.
The CPC program has been identified as a model at UNC and has received funding from the Population Association of America (PAA), the National Science Foundation, the National Institutes of Health, and the UNC-CH Office of the Vice-Chancellor for Research.
Meet the 2019 Summer Interns
Five UNC-CH undergraduates participated in the program this summer.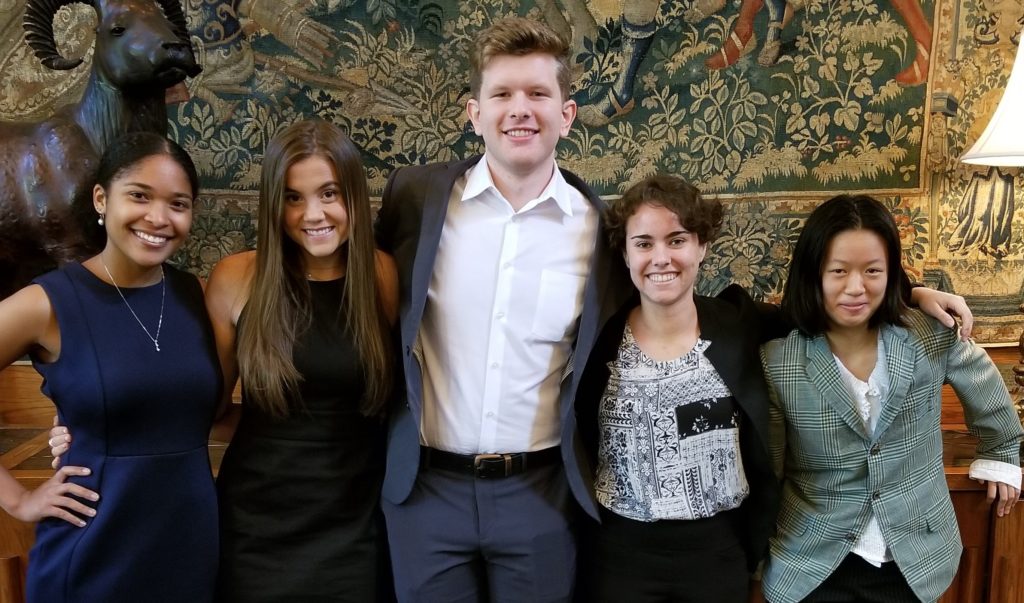 From left to right: Jordyn Carrier, Addie Coleman, Richard Livingston, Andrea Volcan-Rivero, and Cao Fang.
Photo by Jan Hendrickson-Smith
How To Apply
Eligibility:
Undergraduate students with junior or senior academic standing in fall 2019
From a group that is underrepresented1,2 (underrepresented minorities1and/or first generation collegestudents2) in the social, spatial, and/or health sciences, and/or those with a demonstrated commitment to diversity
Strong academic record; minimum 3 cumulative GPA
A minimum of 3 credit hours in basic statistics (excluding AP credit)
Serious intent to pursue graduate (as opposed to professional) studies
Strong interest in population focused research, graduate training, and careers
Applications are due in April.
Alumni
Since 2003, 82 intern alums have participated in the program. Of the 82, 14 are currently enrolled in graduate programs; 3 are in masters programs; 8 are in doctoral programs (UNC-CH; UNC-CH School of Pharmacy; Harvard University; Howard University); 1 is in dentistry school; and two are in medical school. Thirty six have completed graduate work (23 masters [primarily terminal degrees]); 3 JDs; 2 MDs; and 8 PhDs – [2 are now assistant professors (UNC-CH and the University of Rochester); one recently deceased alumna served as an assistant professor at the Univ of Oregon]).