Meet the Carolina Population Center Faculty Fellows elected in 2022
The Carolina Population Center's Faculty Fellows elected seven UNC faculty members to join the CPC Fellows program in 2022.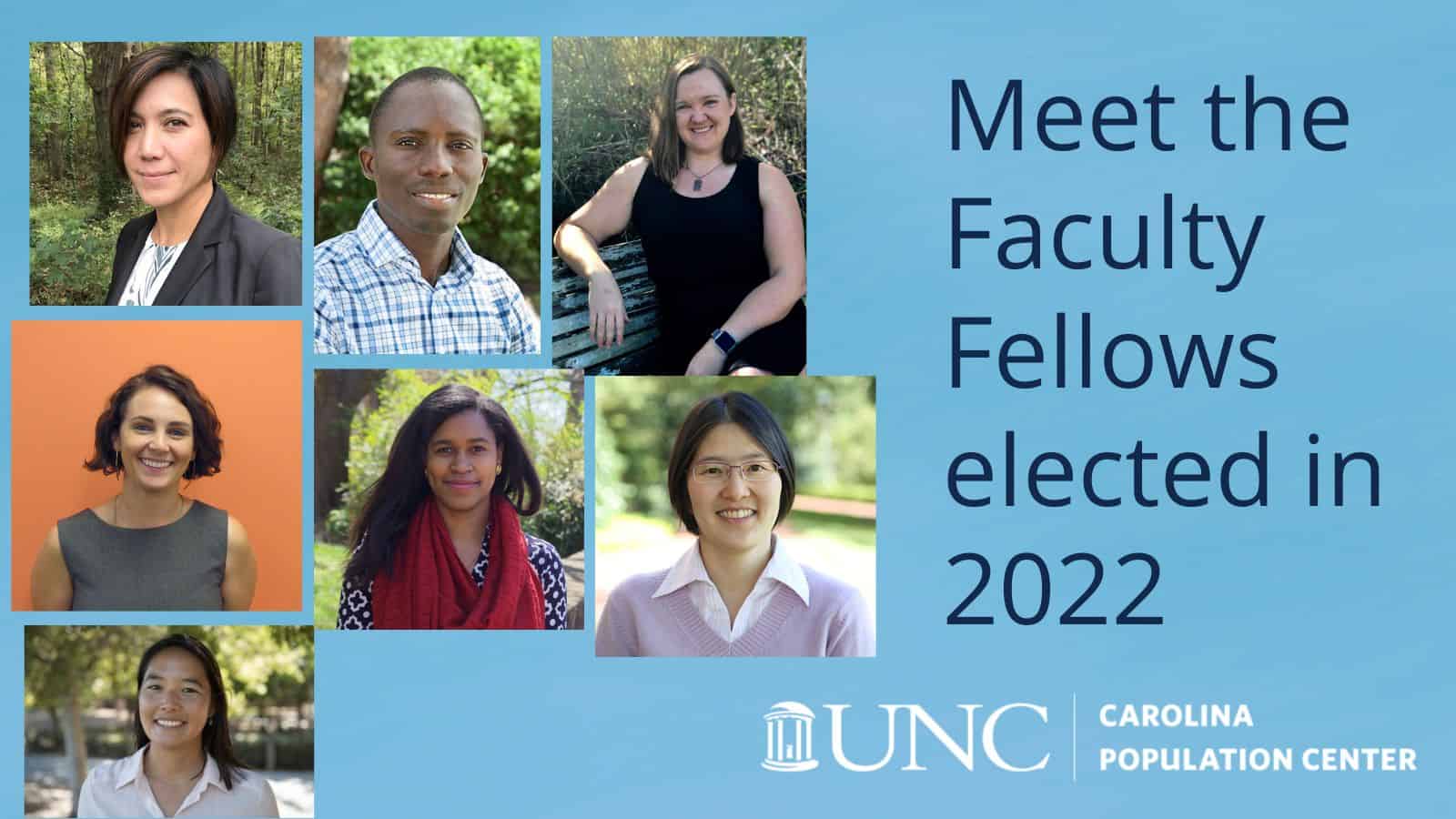 Miyuki Hino, City and Regional Planning
Miyuki Hino is an assistant professor in the Department of City and Regional Planning and an adjunct assistant professor in the Environment, Ecology, and Energy Program at the University of North Carolina at Chapel Hill. Her research examines the linkages between climate hazards, governance, and public policy to drive effective and equitable adaptation to climate change. Recent work has focused on the impacts of sea level rise, the effects of flood risk on property markets, and the use of managed retreat in adapting to climate change. Miyuki received a Ph.D. in Environment and Resources from Stanford University and a B.S. in Chemical Engineering from Yale University.
Morgan Hoke, Anthropology
My research interests lie in understanding the ways in which ecological, sociopolitical, and economic environments become embodied through biocultural processes that extend across generations and how changes in those environments affect human health and people's ability to meet their basic needs. I am particularly interested in uncertainty and precarity as they related to health and housing. I am a biocultural anthropologist with an active field and laboratory research program. I currently serve as the director of the Biocultural Anthropology Methods Laboratory (BAMLab) at Penn. My current research is situated in the community of Nuñoa located in the southern Peruvian Andes and employs both ethnographic and biological methodologies to examine the political ecology of health in a community undergoing rapid economic, nutritional, and environmental transition. I also have new research efforts in the U.S. examining the health impacts of housing insecurity and eviction as well as racial discrimination and birth outcomes.
Rebecca J. Kreitzer, Public Policy
Rebecca Kreitzer's research focuses on American politics by bridging political behavior and institutions to explain public policy in the fifty states. As a scholar whose work incorporates multiple subfields within American politics, Dr. Kreitzer takes a multidisciplinary approach to understanding policy.
In her dissertation work, Dr. Kreitzer focused on the creation of abortion policy in the states. In particular, she focused on the puzzle of why state abortion has become increasingly conservative without an accompanying change in public support for legal abortion. She takes a comprehensive look at the formation of state abortion policy in the different stages of policymaking, across policy types, and over time. Despite obvious differences across policies and policy stages, she finds a common theme: legislators create abortion policy in strategic ways, at the margins of the policy making arena, and sometimes excluding the preferences of the mass public.
Dr. Kreitzer's research agenda extends to other issues of policy process, including policy feedback, policy diffusion and substantive work in gender and sexuality politics. She is currently working on projects that involve the criminalization of pregnancy, and the influence of conservative women on shaping gendered policy. Her work has been published in journals such as Public Opinion Quarterly, Political Research Quarterly, and State Politics and Policy Quarterly, as well as in edited book volumes.
Dr. Kreitzer obtained her M.A. and Ph.D. in Political Science from the University of Iowa. She also holds a B.A. in Political Science and Chinese from Macalester College. She joined the faculty of the University of North Carolina, Chapel Hill as an Assistant Professor of Public Policy in July 2015.
Désiré Kédagni, Economics
Désiré Kédagni received his PhD in Economics from Pennsylvania State University in 2018. His main research interest is in econometrics, with a particular focus on microeconometrics and causal inference (treatment effects and policy evaluation). He is also interested in development economics, labor economics and economics of education. His recent research has been published in Biometrika, Journal of Econometrics, The Econometrics Journal, Journal of Applied Econometrics and European Economic Review.
Aunchalee Palmquist, Maternal and Child Health
Aunchalee Palmquist, PhD, MA, IBCLC, is an assistant professor in the Department of Maternal and Child Health at the UNC Gillings School of Global Public Health and an affiliate of the Carolina Global Breastfeeding Institute (CGBI). She is a medical anthropologist and International Board Certified Lactation Consultant.
Dr. Palmquist's research addresses the intersectionality of perinatal maternal, newborn and young child health disparities globally and in the U.S., with an emphasis on breastfeeding. Dr. Palmquist's interdisciplinary work bridges medical anthropology and global public health. She conducts community-based participatory research and uses both ethnographic methods and mixed-methods approaches. Her scholarship and practice are informed by human rights-based approaches and a reproductive justice lens.
Dr. Palmquist is the lead for the CGBI Lactation and Infant Feeding in Emergencies (L.I.F.E.™) Initiative. She serves as a CGBI representative on the WHO/UNICEF Global Breastfeeding Collective, the Emergency Nutrition Network IFE Core Group, and the United States Breastfeeding Committee as Co-Steward of the COVID-19 Infant and Young Child Feeding Constellation. Dr. Palmquist has previously served as an International Lactation Consultants Association liaison to the United Nations.
Deshira Wallace, Health Behavior
Dr. Deshira Wallace is an Assistant Professor in the Department of Health Behavior at the UNC Gillings School of Global Public Health. Her research is focused on examining the effects of structural and psychosocial stressors on cardiovascular disease and type 2 diabetes prevention and management among US Latines and in Latin America. Further, she uses an intersectionality framework to examine risk factors, coping behaviors, and chronic health outcomes, particularly among Latines and Latin Americans of African descent in an aim to further unpack health inequities within the Latine and Latin American population.
She works at the intersection of health sciences, social sciences, and the humanities to not only highlight health disparities, but to also critically examine how these disparities and inequities came about.
Sachiko (Sachi) Ozawa, Pharmacy
Sachiko Ozawa, Ph.D., M.H.S., is a health economist whose work focuses on generating evidence that can be used to improve the health of populations globally. Her research focuses on examining the value of vaccines, assessing the economic burden of diseases and examining the demand and utilization of health care. She is interested in the interface between pharmacy and public health from the perspective of a global health economist.
Ozawa's previous research estimated the return on investment from childhood immunization in low- and middle-income countries, examined people's trust in the health system and assessed the transition of global health programs from donors to local governments. Her findings have been used by the Bill and Melinda Gates Foundation, World Health Organization and Gavi (the Vaccine Alliance) to advocate for vaccine introduction and coverage increases in low- and middle-income countries. For example, her work has been instrumental in securing the funding replenishment for Gavi of $7.5 billion for 2016–2020 and contributed to a declaration signed by 20 health ministers at the Ministerial Conference on Immunization in Africa in 2016 to increase the use of vaccines in preventing infectious diseases.
She serves on the WHO Strategic Advisory Group of Experts Global Vaccine Action Plan Working Group on the demand for immunization. She is also a member of the Scientific Committee Review Panel for the International Health Economics Association.
Ozawa received her M.H.S. and Ph.D. from the Department of International Health at Johns Hopkins Bloomberg School of Public Health. She is trained in health systems and health economics. Prior to joining the UNC Eshelman School of Pharmacy in fall 2016, she was a faculty member at Johns Hopkins Bloomberg School of Public Health.